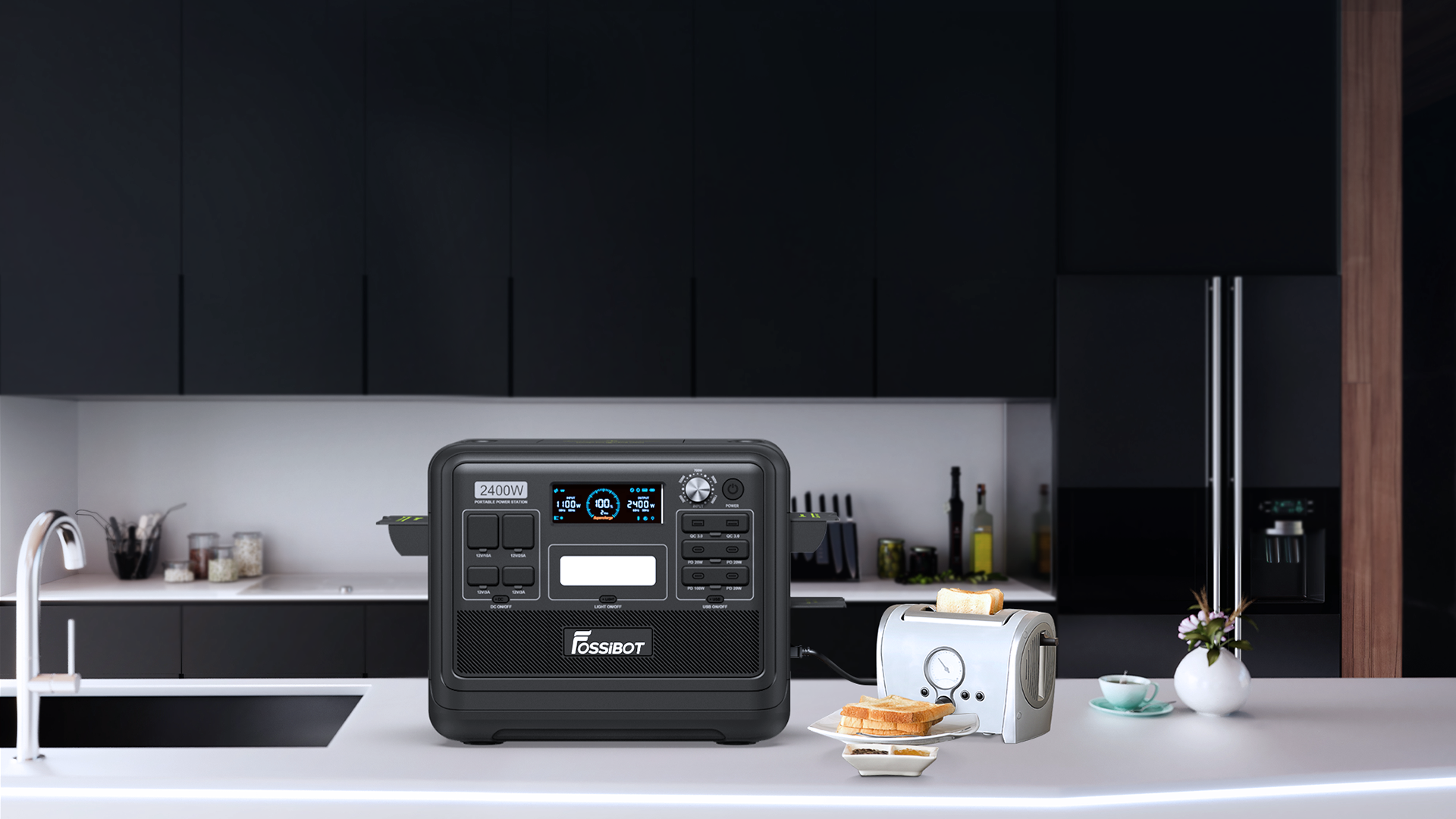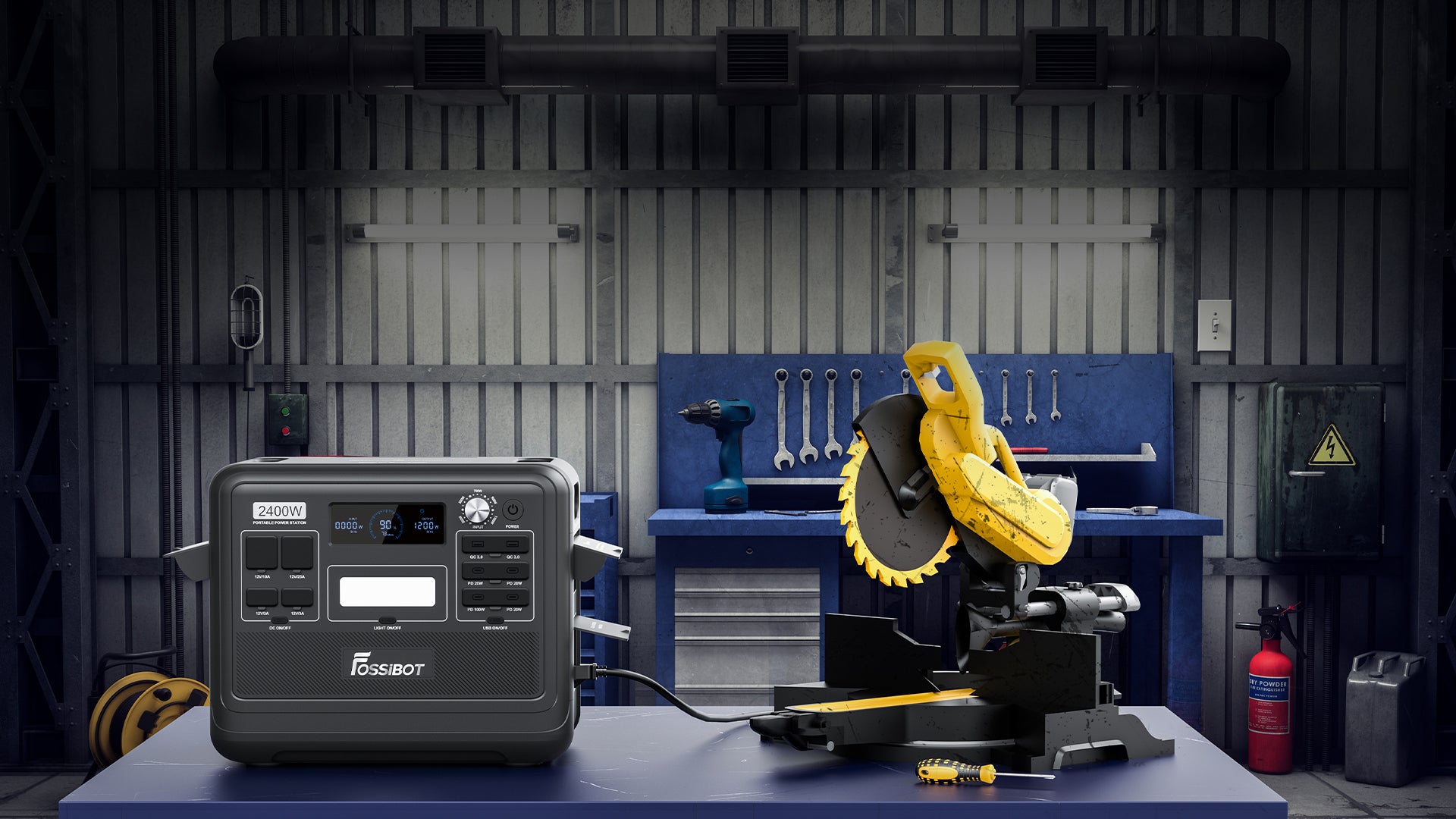 CHARGE 99% OF YOUR DEVICES
Laptop(13889mAh)
39
Times
Mini Cooler(60W)
29
Hours
Electric Grill(1100W)
1.58
Hours
Coffee Maker(1000w)
1.7
Hours
Microwave(700W)
2.5
Hours
Hair Drier(1600w)
1
Hours
Electric Drill(1080W)
1.58
Hours
Electric Saw(1200W)
1.45
Hours
Lawn Mower
(1400W)
1.2
Hours
Electric Hammer
(1500W)
1.1
Hours
3,500


Battery Cycles

Powered by premium LPF(LifePO4) battery which offers 3500+ battery cycles and last for almost 10 years (1 cycle/day), along with the automotive-grade BMS to provide you noiseless, portable and efficient emergency backup power plan, safer and longer lifecycle.

FOSSiBOT

Others
*Data Base on internal lab testing
Ultra Fast Charging Within 1.5 Hours
1100W AC Charge: 2H
AC+Solar Charge: 1.5H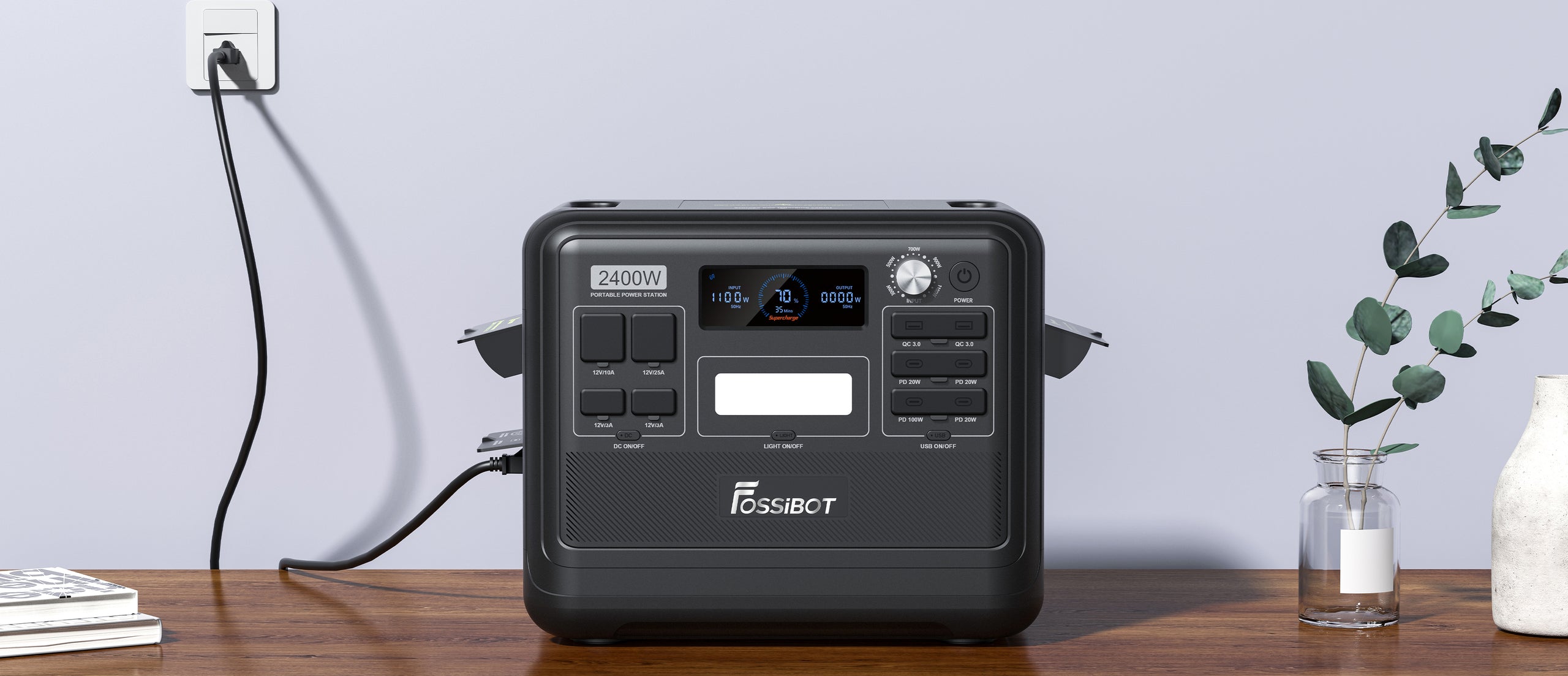 Consistent Power, Always Be Ready
F2400 ensures continuous power with Uninterruptible Power Supply (UPS)
Switchover time in under 8ms
Rubber Plug
Covers For
Output
Ports
For the first time, FOSSiBOT specially designed rubber plug covers for the DC and USB output ports, offering dust-proof and daily life water-resistance for the machine.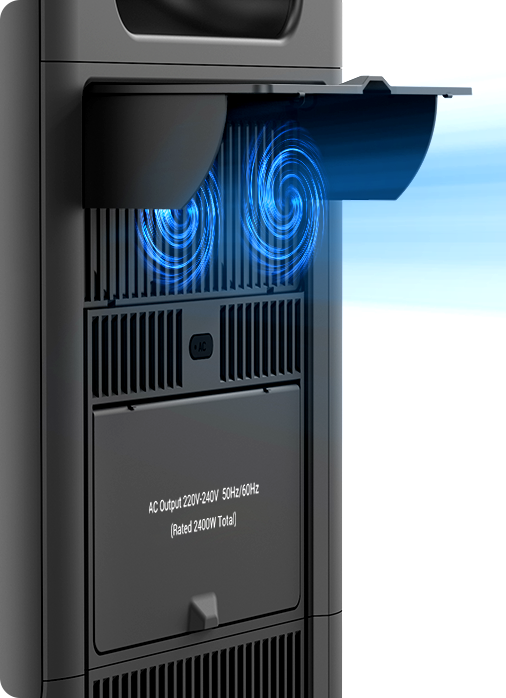 Intelligent Heat Dissipation, Quiet and Noiseless; Storage Space, Easy Access for Accessories; Arc Mechanical Design, Balanced Handles.
Superior Quality
Exquisite design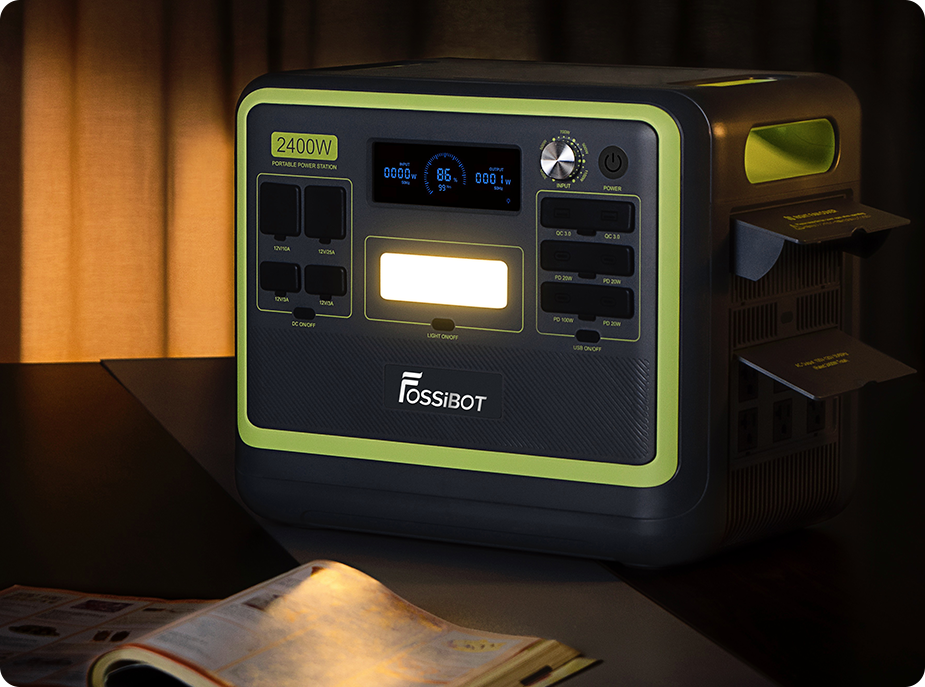 Warm Tone LED Lighting
On your journey or encounters emergencies, the F2400 portable power station serves as a source of light or SOS flash light.

Long press to turn on the light, which can be used as a flashlight.
Press it again in lighting mode, it will blink slowly. It can be used as the SOS signal light.

Press it again in SOS mode, the light flashes quickly.
ALL THE PORTS YOU NEED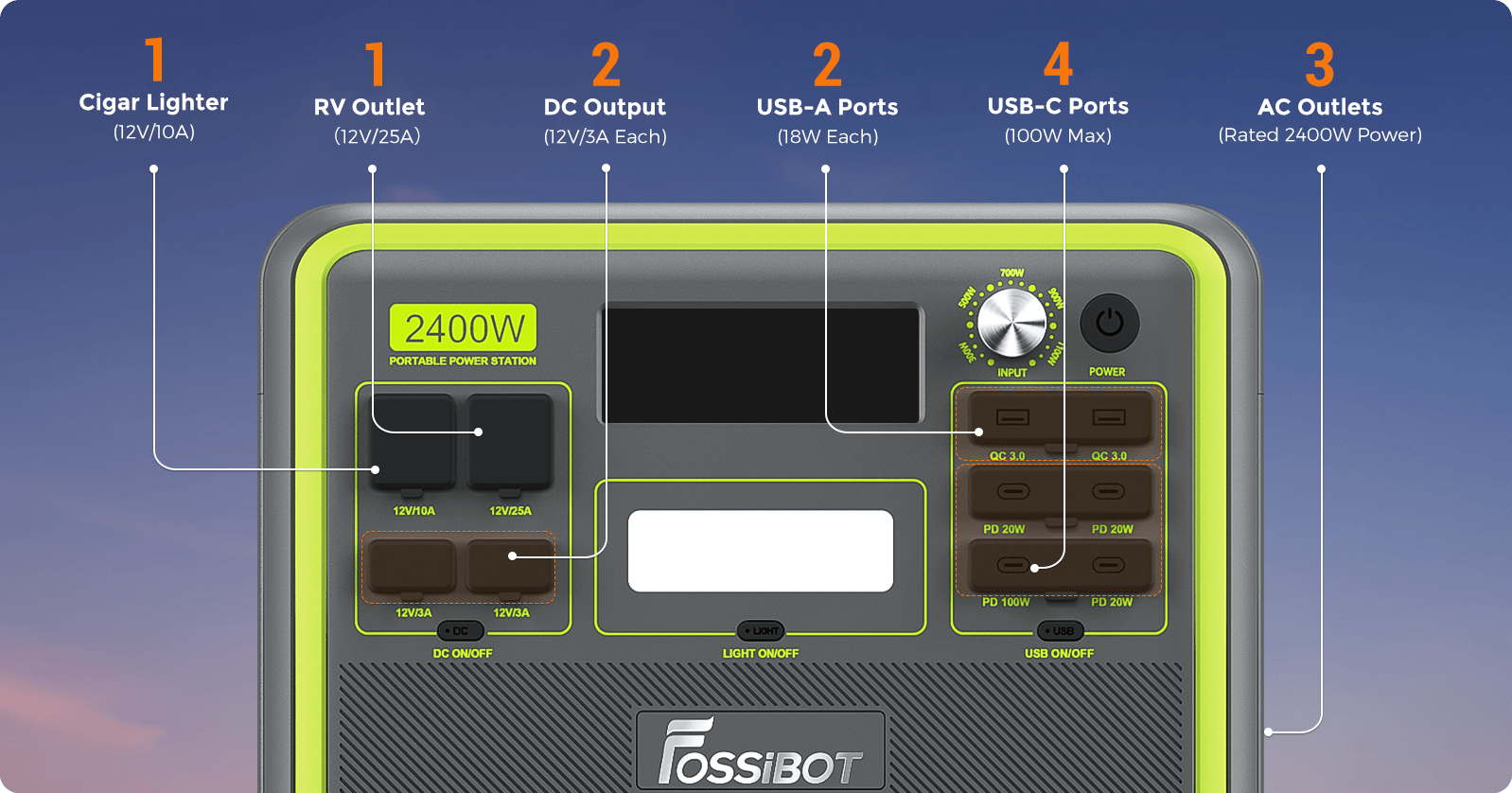 Adjustable Input Power Adjustment
F2400 specially designed a rotating knob for adjusting the input power from 300W to 1100W, which decides the recharging speed. When the voltage is too low, you can also charge the machine by decreasing input power.
PURE SINE WAVE
F2400 comes with pure sine wave, high efficiency, stability and no damage to electrical appliance.
Two Colors For Your Choice